Executive Summary
Customer is focused on developing a platform for K-12 and continuing education to expand their digital learning and digital classroom experiences to integrate video with existing learning management systems. Provide true academic learning performance to get the best results by consultations, mentoring and online tutoring.
Customer challenge
Customer was looking for a platform that could scale with demand to improve user experience. The customer doesn't have a feature to embed live video and chat sessions between users to have seamless Mentorship sessions, scheduling, and post -lecture references within the application, they need real-time communications in their applications to provide a compressive and scalable solution to the tutoring needs that provides direct and easy access to students to connect with Tutors.
Partner Solution
We worked through the design and implementation challenges that go along with migrating web application to AWS, devised a migration strategy, and built the infrastructure in a new AWS environment using Amazon EC2 on windows server and RDS providing unified integration with AWS Chime and Amazon Quick sight in a secure, reliable, and high-performance environment.
Additionally, implemented Systems Manager to provide a central place to view and manage all AWS resources, so they can have complete visibility and control over operations. Setup Active directory for secured login to the application.
The customized communication interface provided a seamless virtual classroom experience. Students are now able to easily connect to a Tutor of their choice and also get the flexibility of review as all classroom sessions are fully recorded and maintained for them in their very own virtual library. This empowers students to get on-demand help.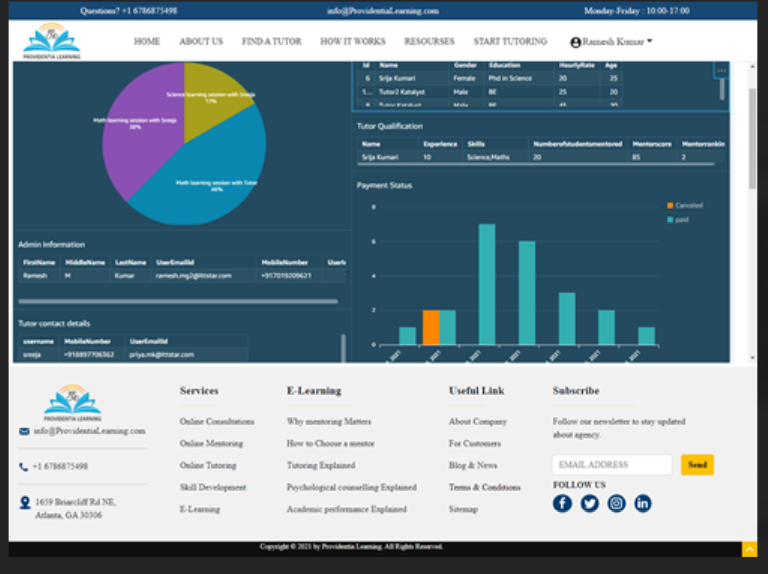 Why AWS?
Amazon EC2 for Microsoft Windows Server can maximize agility, security, and cost efficiency.
Amazon Chime is a fully managed service that runs securely on the AWS cloud which transforms online meetings within an application that is secure and comprehensive.
Ability to natively integrate with other AWS services like Rekognition and Transcribe to implement sentiment analysis for the students during mentoring session.
Results & Benefits:
The platform could scale with demand to improve the user experience which reduced their monthly operating cost.
Students and mentors connect regardless of if they are in school or working from home. The Amazon Chime integrate audio and video into the customer application, making it easy to bring together virtual classrooms while giving control of the security and student experience.
Integrate pre-built communication building blocks into our eLearning applications to accelerate development.
Embedded dashboard on their application provides secured access and visualization pertaining to their own accounts.
Reduce time to market, costs and overhead.