Executive Summary
AscendLogix is a company that helps clients explore, evaluate and implement technologies to solve business problems. They were looking for a solution with multi-level prediction & analytics for deeper understanding into customer patterns to drive effective marketing campaigns. They partnered with ITTStar to develop an AI-powered customer 360 solution which was robust, scalable, inexpensive and customizable.
Customer challenge
The customer's need was to address these objectives for its clients:
Optimize marketing channel distribution through marketing analytics
Measure and improve the effectiveness of marketing and advertising campaigns
Increase customer engagement
Capturing multiple data points in real-time was essential to attain the above objectives. Collecting this data and extracting key attributes while prospective customers are navigating through the site was not only challenging and expensive but also time consuming as it would require:
An entire engineering team
Months to collect this data, synthesize findings and deliver insights for implementation
Large data storage and computing power
Hence, the need to build a multi-level analytics engine for deeper understanding into customers for designing effective marketing campaigns and to target the right customers.
Partner Solution
The customer had data such as user interactions, page navigation, click rate, turnover rate, click rate, completion rate available but it was not well organised to perform advanced analytics, real-time. Hence, ITTStar developed a solution using AWS services. A data pipeline from Kinesis firehose to SQS was developed and processed through a Lambda function. Amazon Kinesis Data Firehose was used to deliver the data to S3 buckets. AWS Lambda is used for final formulation of user-level engagement analytics and then to load into client's data warehouse. Amazon Redshift was also used. Lambda inserted new or modified records into the Aurora Serverless database. From there, a QuickSight hourly process consumed all the new data and automatically updated all tables creating seamless visualizations. The client received a daily report scheduled from QuickSight that shows detailed sales history and sales forecasts using machine learning and artificial intelligence. Those reports enabled the customer to make better and well-informed decisions.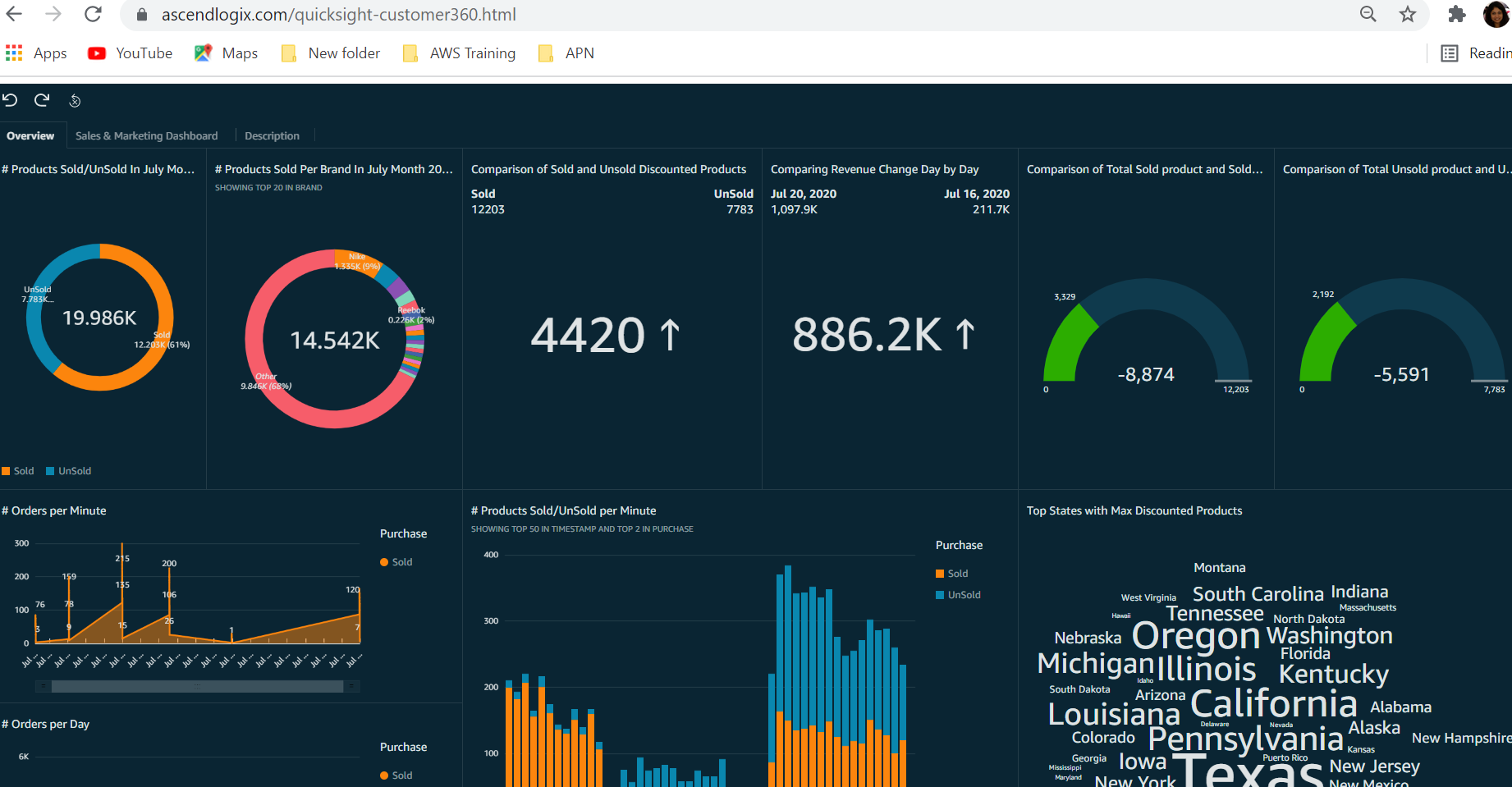 Why AWS?
Handling volume and variety of unstructured data generated from various sources was one of the biggest challenges. AWS provided multitude of services and a cohesive ecosystem that enabled developing end-to-end solution with ease. Amazon Kinesis provided a simple and easy option to collect, process and transform data into actionable insights. Other services such as AWS Lambda, AWS SQS, Aurora RDS Serverless, AWS S3, and Amazon Quick Sight were added to the stack to build a scalable, robust and agile platform.
Results & Benefits
Using various AWS offerings, ITTStar created an AI powered 360 solution that benefited the customer in many ways:
Shorter time to deploy and implement
Potential to scale quickly
Multi-dimensional analysis to measure campaign effectiveness
Trusted view of business-critical data to make better and faster decisions
Ability to optimize of marketing spends, channel distribution & such other metrics
Accelerated path to data-driven digital transformation, directly impacting bottom-line