Embedded analytics is the integration of business intelligence and reporting dashboard into a core application. Rather than having business analytics separate from the application, embedded analytics enables reports and dashboards to exist natively in the application's user interface.
Data is everywhere and is being used to get insights to make strategic business decisions more and more often. As a result, it's important to be able to access data and analyze it from anywhere. Now we can embed analytics into our applications, offer analytics as a service, as a data product, or embed analytics in our web portals and company intranet.
Embedded analytics integration with Application:
Embedding a dashboard helps us to market our product faster, quickly deploy new analytics content, and fulfill change requests in moments. There are several approaches to integrate embedding analytics within an application based on end-users & specific use cases. Typically, there are three different ways to embed analytics within applications.
●Launching a standalone application: One way to implement Reporting & Dashboard functionality is to contain it in a separate website that is launched from within a page. While the user is able to access in this way, it may require User Login or other Security Models.

● Embedding through Iframe: Another common way to embed analytics is to display them inside of inline frames (separate HTML document inserted inside the webpage). In this approach User can view the dashboard and have limited ability to interact with it, such as changing pre-defined filters.

● Embedding through API: When an application is embedded at the code level, the BI solution's code integrates into the host application's codebase. This approach gives a more seamless analytical experience.
The specific use-cases of Embedded Analytics: Embedded analytics can be used in many use-cases across industries including the following:
● Insurance

● Retail

● Telecom

● Finance
Examples here show how we have embedded analytics to various industry vertificals.
Click below to see our interactive dashboards for different use cases
Insurance Embedding Analytics Use-case:
This dashboard provides an overview of a company's insurance claims metrics. With this dashboard, viewers can answer the following questions:
● How many claims have we received this month, and what is the amount of those claims?

● How do these numbers compare to previous months?

● What is our average cost per claim?

● On average, how long does it take us to settle a claim?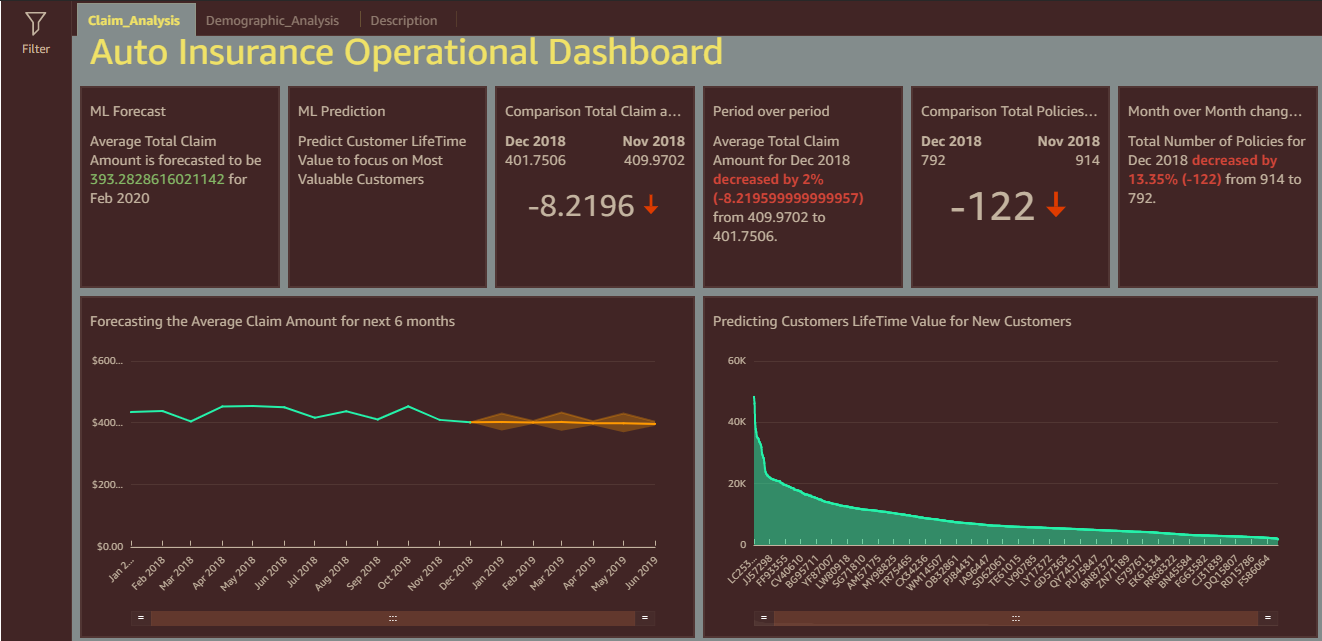 Retail Embedding Analytics Use-case:
Retail Embedding Analytics Use-case: This dashboard can help retailers suggest cross-selling and up-sells based on inventory levels and product wise purchase details. With this dashboard, Marketing Executives of firms can answer the following questions .
● How can we analyze sales & profit for each product category & sub-category to know about most profitable products?

● What would be the upcoming demand of a specific product to save on some inventory costs?

● What would be the sales in different regions to manage the inventory efficiently?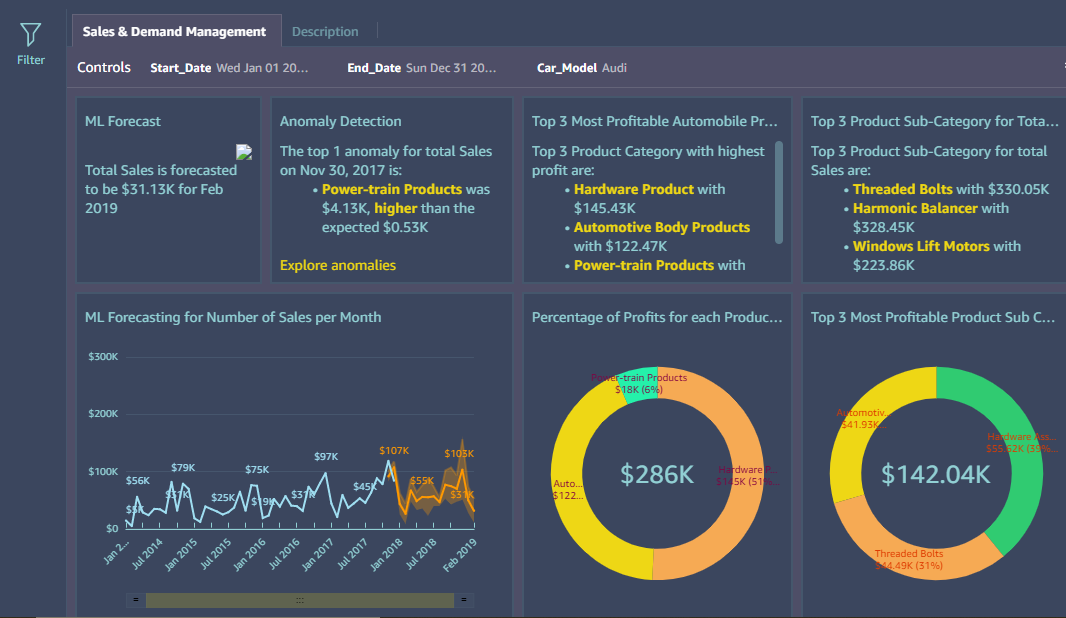 Telecom Embedding Analytics Use-case:
This dashboard can help telecom companies to retain their customers from churning to another mobile operator. With this dashboard, Marketing Executives can answer the following questions:
● How much loss of revenue occurred by churned customers?

● What were the reasons and % of customer churn?

● What are the average monthly price impact on churned customers?

● What would be more expensive; acquiring a new customer or retaining an existing customer?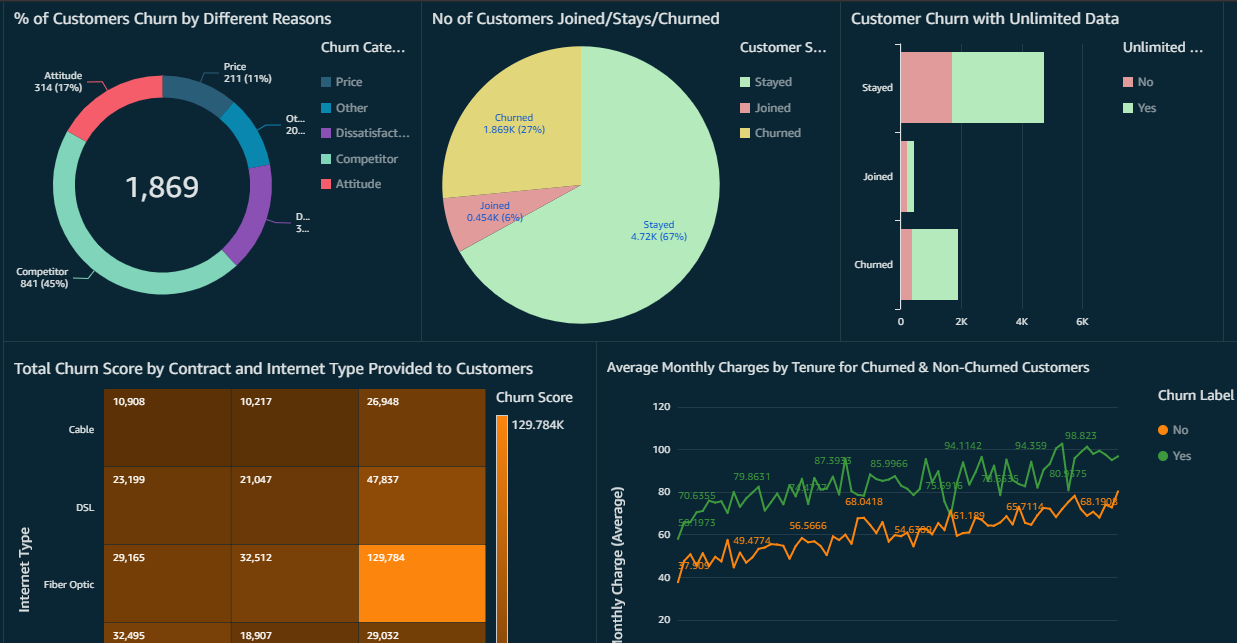 Finance Embedding Analytics Use-case:
In this use-case we have implemented complete Data ETL Pipeline using Yahoofinace API, Amazon S3, AWS Lambda, AWS Glue, Amazon Aurora, AWS Redshift and AWS Quick Sight. This dashboard is showing real-time stocks price and volume change every minute. With this dashboard, investors can get the answer for following questions:
● Which company's share price is growing in order to know where the customer should invest?

● Overall performance of the shares in the last year, last month, last day?

● How the share price/volume is changing min over min for each company?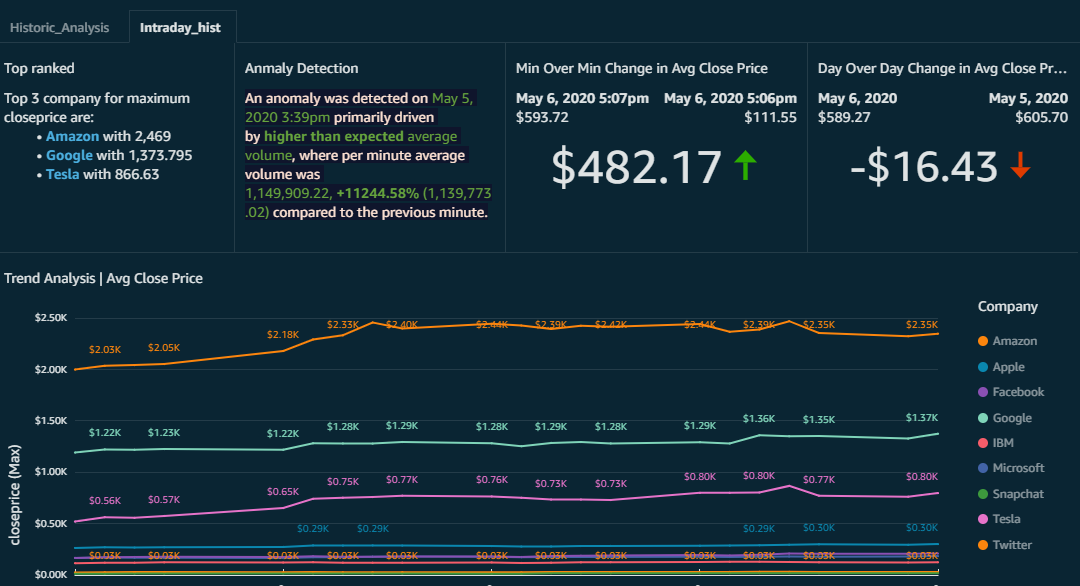 Benefits of embedded analytics:
To make more informed and accurate decisions and to achieve the desired outcome, Embedded Analytics plays a very important role. It improves the users' engagement in the system, which increases the value of these applications to the organization. Embedded analytics can significantly enhance an organization's business performance by integrating operations with analytics. This capability facilitates the improvement of business operations by enabling real-time analysis based KPIs. For example, a manufacturing organization could use analytics to monitor and prevent maintenance problems by identifying patterns in equipment breakdown.
Summary:
Organizations are using these Embedded Analytics platforms to get their data and analytical outputs (like charts, graphs, pivot tables, dashboards) and self-service analytical capabilities inside the business's core application. So rather than logging into different services or tools, employees/clients can directly access it whenever they need or instead of using a standalone application, Embedded Analytics enables business intelligence directly within the applications an organization is already utilizing.
*Click here to know more on Embedded Analytics